Too tiny to be considered a micro-press, Wyrd Goat began as many micro-ideas do in the Pacific Northwest. How this stuff happens is that some people get together and think, "We have fun doing this. People seem to like our stuff. We have some experience, and we have friends with lots more experience who can yank us back from the brink just before we're about to do something dumb. Maybe if we get a business license and start small, we can offer this to a wider audience without getting in over our heads. And if it gets to be too much trouble, we can stop."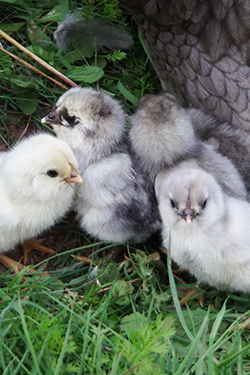 Stop laughing and let me tell this story ....

We're all about the story at Wyrd Goat Press. Whether it's a memoir, a hard-to-categorize fantasy, an ill-advised children's book or near-future SF with characters too real to be disbelieved, you'll find solid, entertaining stories that will take you away. They might even take you back home again.
Are you accepting submissions?
Sorry, we aren't accepting book submissions at this time. If you're interesting in publishing a book, you're welcome to contact us and we can give you some general information about publishing traditionally, self-publishing, and hybrid publishing.
How long have you been in business?
Since July 2011
Do your authors do book signings or book tours?
Yes and yes! We would love to give you up-to-date information about that. Just ask us in the contact form. You're welcome to contact a specific author, or the press itself.
EM Prazeman goes to a few science fiction and fantasy conventions each year, as well as the occasional book event at book stores and online book release parties. Like her facebook page and check her feed for updates: https://www.facebook.com/EMPrazeman/
Rory Miller travels all over the world, teaching and lecturing. He's very approachable and would be willing to sign your book if you happen to be in the area, even if you don't take his class. For his schedule go to http://chirontraining.com/Site/Home.html and click on the year in question in the nav bar. You can view his calendar there at any time.
Tammy Owen, RA Ellis and KZ Miller can ship signed copies of their books in the mail.
Are the images of animals on the website yours or stock images?
The cats, dogs, birds, goats, deer, etc. all live on our farm, and the garden pics are of our garden.