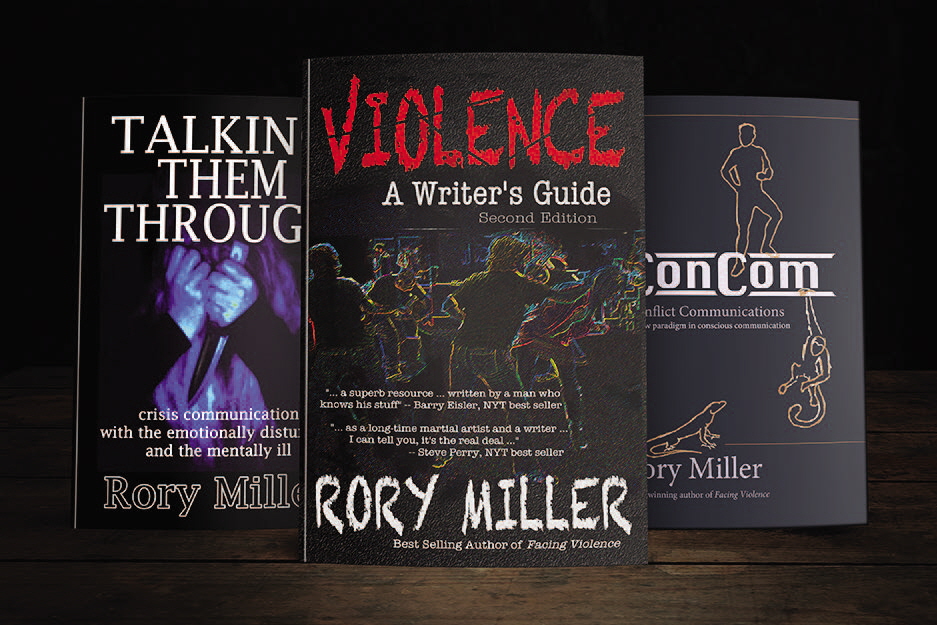 Violence: A Writer's Guide
This is not about writing technique. "Violence: A Writer's Guide" is an introduction to the world of violence. To the parts that people don't understand. The parts that books and movies get wrong. Not just the mechanics, but how people who live in a violent world think and feel about what they do and what they see done.
"Novelists need to be experts on storytelling. For everything else, we need to fake it convincingly. If you want to become a real expert on violence, you can spend years in a dojo, and in a jail, and on the street, and in Iraq, and in conferences and libraries analyzing your real-world experiences. Or you can borrow the expertise of someone who's done all that. Clear, concise, invaluable. Sgt. Rory Miller has written the best book on violence I've read."
--NYT Best-selling author Brent Weeks
Print book: $14.99, ebook $5.99
Available on Amazon, Barnes & Noble, Kobo, iTunes
Talking Them Through
Drawing on extensive experience with unstable, violent, intoxicated and mentally ill people, former Corrections Sergeant Rory Miller delivers a street-level guide to building rapport, taking command and avoiding force.

An altered state of consciousness can be caused by many things-- drugs in the system, brain chemistry, or simple fear, anger or stress. In this short volume, Miller provides a concise guide to staying safe, reading the situation, reading the person and making a connection.
An experienced corrections officer, the author is realistic enough to note that talking doesn't work every time. But his tips will give you the edge that might prevent injury.
Ebook only $5.99
Available on Amazon, Smashwords, Kobo, Barnes & Noble, itunes
Conflict Communications – A New Paradigm in Conscious Communication

ConCom: Conflict Communications presents a functional taxonomy to see, understand and manipulate the roots of conflict. If you have ever wondered why your boss ignored a suggestion that could save millions of dollars, or why you have the same argument again and again with your spouse, the answers are here, as well as the tools to do something about it.
A manual of advice born of long experience with violence…Unpleasant but useful information, particularly for those who routinely come in contact with highly aggressive people. (Kirkus Reviews)

Concise, helpful, and well-organized, this is strongly recommended reading for those interested in learning to verbally de-escalate violence. (Foreword Reviews)

Like the Post-it® note, Conflict Communications is something you never knew you needed but cannot live without. The materials are straightforward and easy to apply, yet profoundly insightful. Once you begin to recognize the patterns that Miller describes within yourself and others it will forever change the way you interact. Armed with this new information I was able to resolve a longstanding deadlock on a $168M contract in less than two hours. It's amazingly powerful and wholeheartedly recommended. (Lawrence Kane, Sensei; Sr. Leader, ITI Strategy, Sourcing, and Asset Management at a Fortune® 50 company; best selling author)

A set of extremely effective tools for predicting, avoiding, and managing conflicts. (MAJ Gregory Postal, MD)

…a priceless skill... (Jack Hoban)

Should be mandatory reading… (Tony Blauer, Blauer Tactical Systems)

Breaks out of the martial arts and law enforcement genre... (Jeffrey Cooper, MD)

The standard by which others [writing] on the subject shall be judged. (Steve Perry, NY Times best-selling author)

Won't just help your relationships, it just might save your life. (Alain B. Burrese, JD)
Print book: $18.95, ebook $9.99
Available on Amazon, Barnes & Noble, Kobo, Smashwords, iTunes.